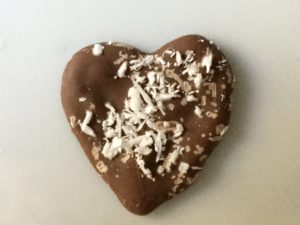 Homemade chocolate hearts are a perfect Valentine's Day gift for friends, family and loved ones. Plus, they are very easy and quick to make. I'm using organic ingredients, which is both better and more natural. Below the recipe you'll find a video tutorial, which might show a few steps more clearly than the recipe.
What you'll need:
What to do:
Rip off a bit of parchment paper, and using the heart cookie cutter, trace hearts all over one side of the paper. Turn the paper over.
Melt the chocolate in a hot water bath, using the glass bowls and the pot of hot water. Be careful no water gets into the chocolate.
Fill the chocolate into the piping bags, and using the hearts we traced as a guide, pipe chocolate hearts onto the parchment paper.
Decorate. Sprinkle the chocolates with desiccated coconuts, contrasting chocolate chips, of create a marble effect by adding a few drops of contrasting chocolate onto the hearts and swirl it with a toothpick.
Give the chocolate lot's of time to set
Enjoy your homemade Valentine's Day chocolate hearts!
Happy Valentine's Day!