There is a Video below, please scroll down.
Recipe: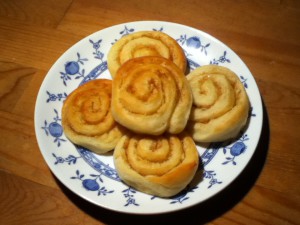 Dough:
800g wheat flour
100g sugar
50g yeast
500ml milk
125g butter
Melt the butter and then add the milk. Let it warm to about 35˚C. Crumble the yeast in a separate mixing bowl. Pour the milk and butter mix over the yeast. Add all the other ingredients. Mix and let it sit in a warm place in order to let it rise for about 30 minutes.
Filling:
100g soft butter
75g sugar
2 teaspoons of cinnamon powder
(All ingredients I use are organic, except for the yeast which is hard to come by.)
Mix these ingredients together.
Things you need to do:
Roll the dough out on a table. Spread the filling on top of the dough and roll it up. Cut the roll in slices of roughly 1cm each.
Bake at 200˚C for 8 to 10 minutes.
Enjoy!