Making homemade chocolate muffins / brownies, a quick and easy baking project for beginners.

You'll need: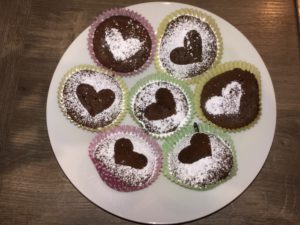 75g milk chocolate
75g 70% dark chocolate
100g sugar
1tbsp vanilla sugar
110g butter
3 eggs
80g plain white flour
a pinch of salt
icing sugar for decoration
What to do:
Melt the chocolate and the butter in a hot-water bath.
Add the sugar and vanilla sugar, mix and let it cool a little.
Add the flour, eggs and salt and mix it to a smooth batter.
Preheat the oven to 180˚-200˚C.
Using a spoon, fill the batter into some muffin cases and bake for about 15 minutes.
Let them cool.
Decorating: (This is optional, you can also leave the muffins as they are).
Method 1:
Spoon some icing sugar into a fine-meshed tea-strainer and shake it over the muffins, so the sugar drifts out and settles on the muffins like snow.
Method 2: (creating heart shapes)
Same as in Method 1, spoon some icing sugar into a tea-strainer.
Cut out a square of parchment paper, large enough to cover a muffin. Fold the square in half, and using kitchen scissors, cut out half a heart along the folded line, so once you unfold the square, a complete heart appears. Keep both the heart and the square with the heart-hole.
Stick a toothpick through the middle of the heart and 4 toothpicks into the square with the heart-shaped hole. These will hold the templates in place.
Stick the template of you choice into the muffin, and shake the tea-strainer with the icing sugar over them.
Carefully remove the template. Depending on which template you used, each muffin will either have a white or a brown heart on top.