Happy new year everyone! Last autumn I made an 1840s day dress, filming the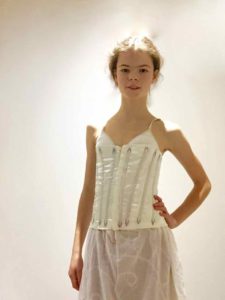 process. Now I finally got around to editing all that footage, so in the following weeks I'll be uploading a lot of "making of" videos on my Youtube Channel and on here. Today the first part of the series went live: making the corset.
As I didn't want to invest in metal boning for multiple reasons, I boned the corset with a couple of heavy-duty cable ties my brothers still had left over. I just managed to cut them with ordinary scissors.
For reference I used this drawing from teainateacup.
I decided to make a late victorian corset, as I didn't like the ones used in early victorian times. Also, I will be able to use it for all kinds of future dresses, not just the 1840s dress.
First I made the paper pattern, which I also used as a mock-up. Then I cut everything out from white cotton fabric, later the lining of my coset, and finally I made the satin outside. I added about one bone per inch of waist, as a rule of thumb says, and  some decorative flossing along the top and bottom edges.
Here ist the construction video: