Along with this week's video (scroll down to view), we have a printable pattern, so you don't need to be on your computer every time you want to make these cute Nordic-style Christmas stars.
Coming in Handy for the Christmas Season
What I love about them is the fact they are so easy to make, and the colors red and white make them just perfect for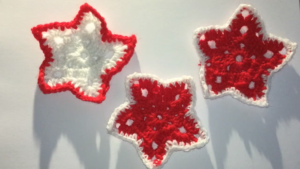 Christmas. You can attach them to a ribbon to create a Christmas bunting, or you can attach a length of yarn at one of the points to hang the star in your Christmas tree.
Have fun, and enjoy your Advent and Christmas season!
List of Materials needed * :
Red DK yarn: https://amzn.to/2Yr9hVO
White DK yarn: https://amzn.to/2DQ5jfW
3mm crochet hook: https://amzn.to/34S3NG1
---
* The links listed above are affiliate links. These will help maintaining this website as I will earn a small commission in the event of a sale; this will not increase or in any other way affect the price you pay.